SEO tools have become the lifeline for digital marketers, content creators, and SEO experts in this era of unstoppable digital evolution. As the tide rises in the sea, so does the competency in the digital marketing world, making SEO tools indispensable.

Selecting the ideal SEO tool can be a challenging endeavor due to the abundance of top-tier options available. SEMrush and Ahrefs are prominent contenders in this space, both renowned for their impressive features and loyal user base. The "SEMrush vs. Ahrefs" debate frequently ignites passionate discussions among experts. In this article, we aim to provide an impartial comparison to help you determine which tool is best suited to address your diverse SEO requirements in 2023.
Purpose of Comparing SEMrush and Ahrefs SEO Tools
The purpose of this blog is to offer our readers a thorough, transparent, and unbiased analysis of SEMrush and Ahrefs SEO tools. We recognize that each user has unique requirements, varying feature preferences, and budget constraints. Therefore, marketing these tools as one-size-fits-all solutions wouldn't align with reality.
Instead, we aim to provide you with a comprehensive overview of both platforms. We'll delve into their features, strengths, and weaknesses, giving you the information you need to make an informed choice based on your specific needs.
So, dear reader, fasten your belts as we dive deep into the digital ocean with our SEO weaponry - SEMrush and Ahrefs!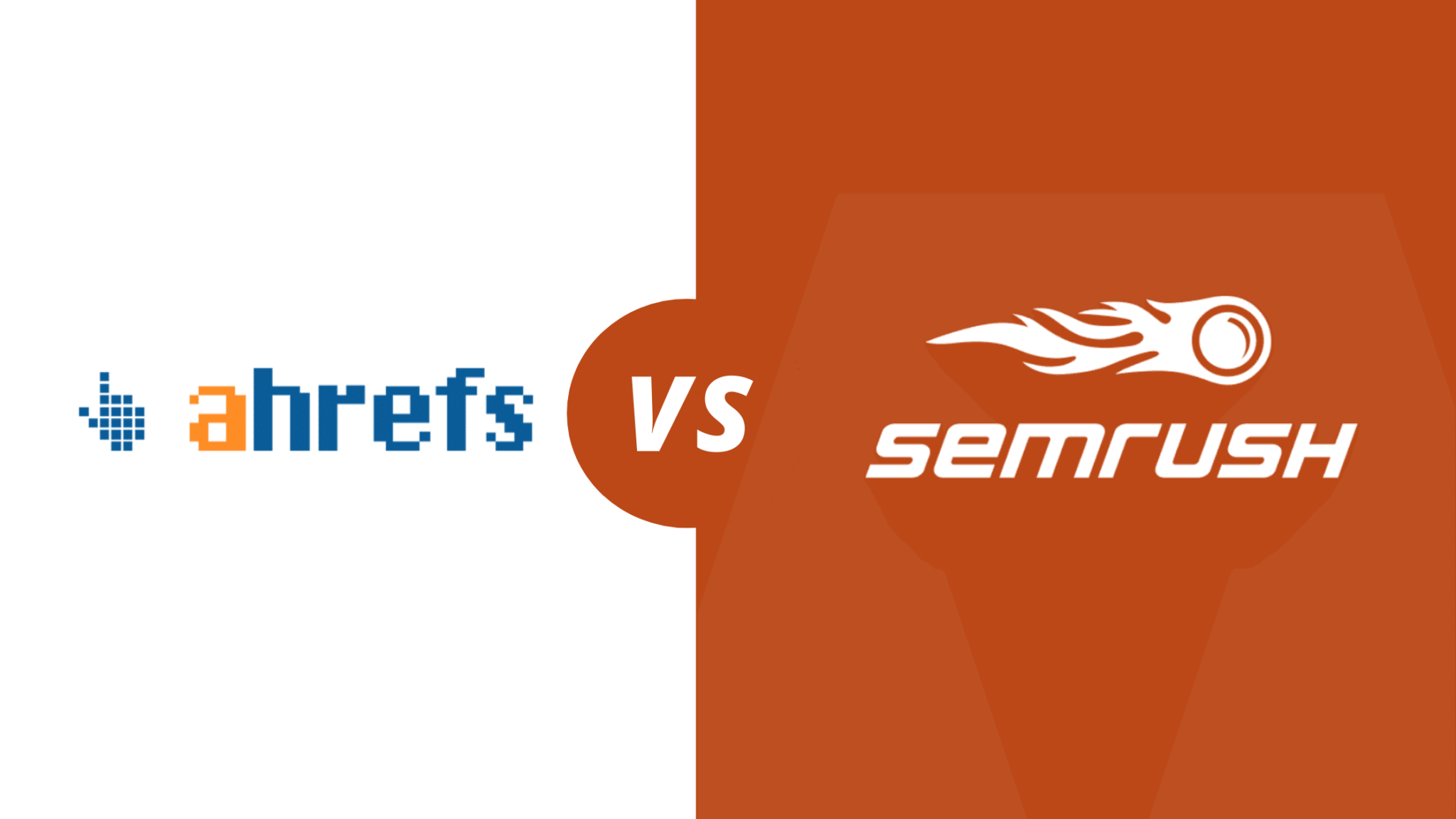 The Competitors: Ahrefs and Semrush
Before we begin our 'semrush vs. ahrefs' deep-dive, it's crucial to acquaint ourselves with the contenders. Although you might have a fleeting idea about both, understanding their cores is integral to this detailed comparison. Amidst the myriad of SEO tools available, what makes Ahrefs and SEMrush standout? Let's find out.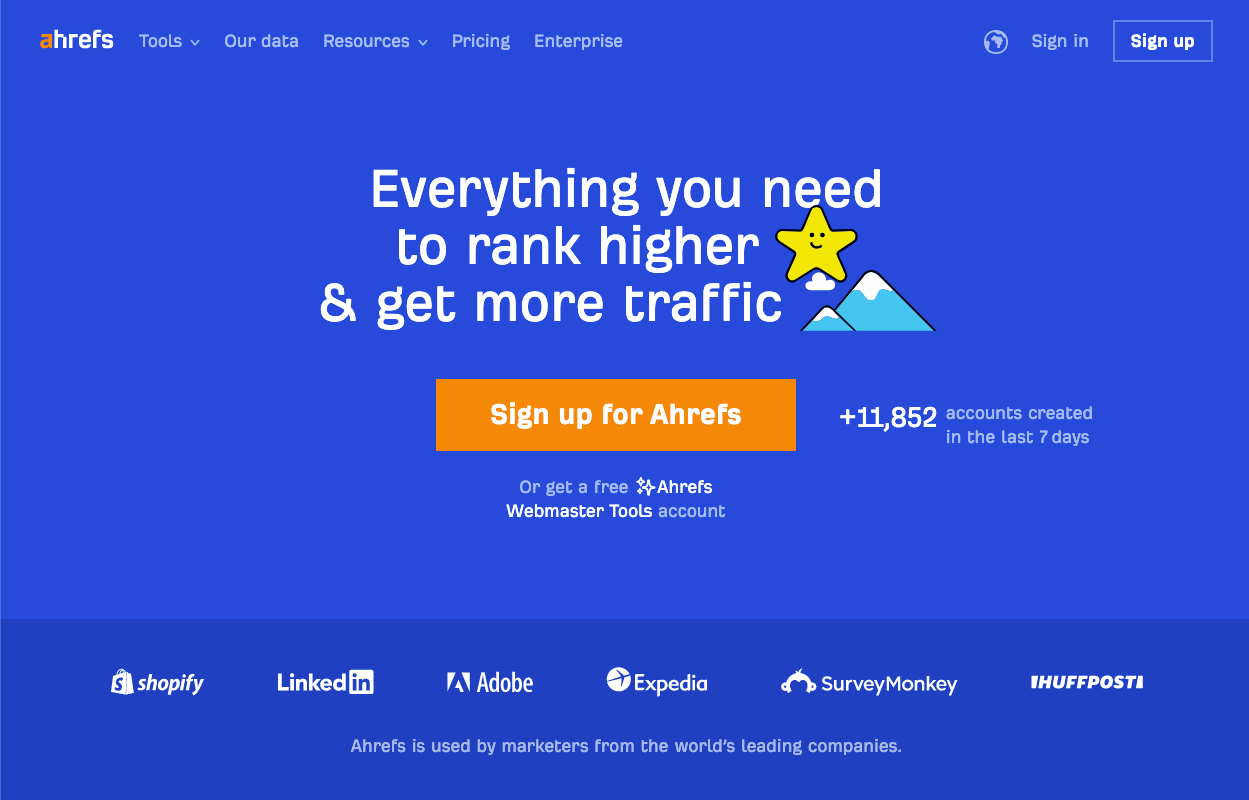 What Is Ahrefs?
Ahrefs, a widely recognized name in the SEO landscape, is a comprehensive optimization and marketing platform. It has etched itself as a prime choice among the masses since its establishment in 2010.
Primarily, Ahrefs is known for its superior backlink analysis capabilities. However, calling Ahrefs merely a backlink analyzer would be an understatement. It's an all-in-one marketing toolkit offering functionalities far beyond backlink profiling. Ahrefs features include keyword research, content explorer, rank tracking, site auditing, and much more. It's like having a plethora of tools under one umbrella specifically designed for digital marketers, content developers, and SEO gurus.
The tool comes with a straightforward and user-friendly interface, making it exceptionally easy, even for beginners, to navigate through the platform's vast features. When it comes to the 'semrush versus ahrefs' battle, Ahrefs takes pride in its robust database, boasting over 200 million root domains, which is constantly updated every 15 minutes.
With Ahrefs, you can dive deep into your site's SEO health or spy on your competitor's strategies, unearth ranking opportunities, find relevant but yet untapped keywords, track your progress, and much more. It's like a one-stop-shop catering to all your SEO aspirations.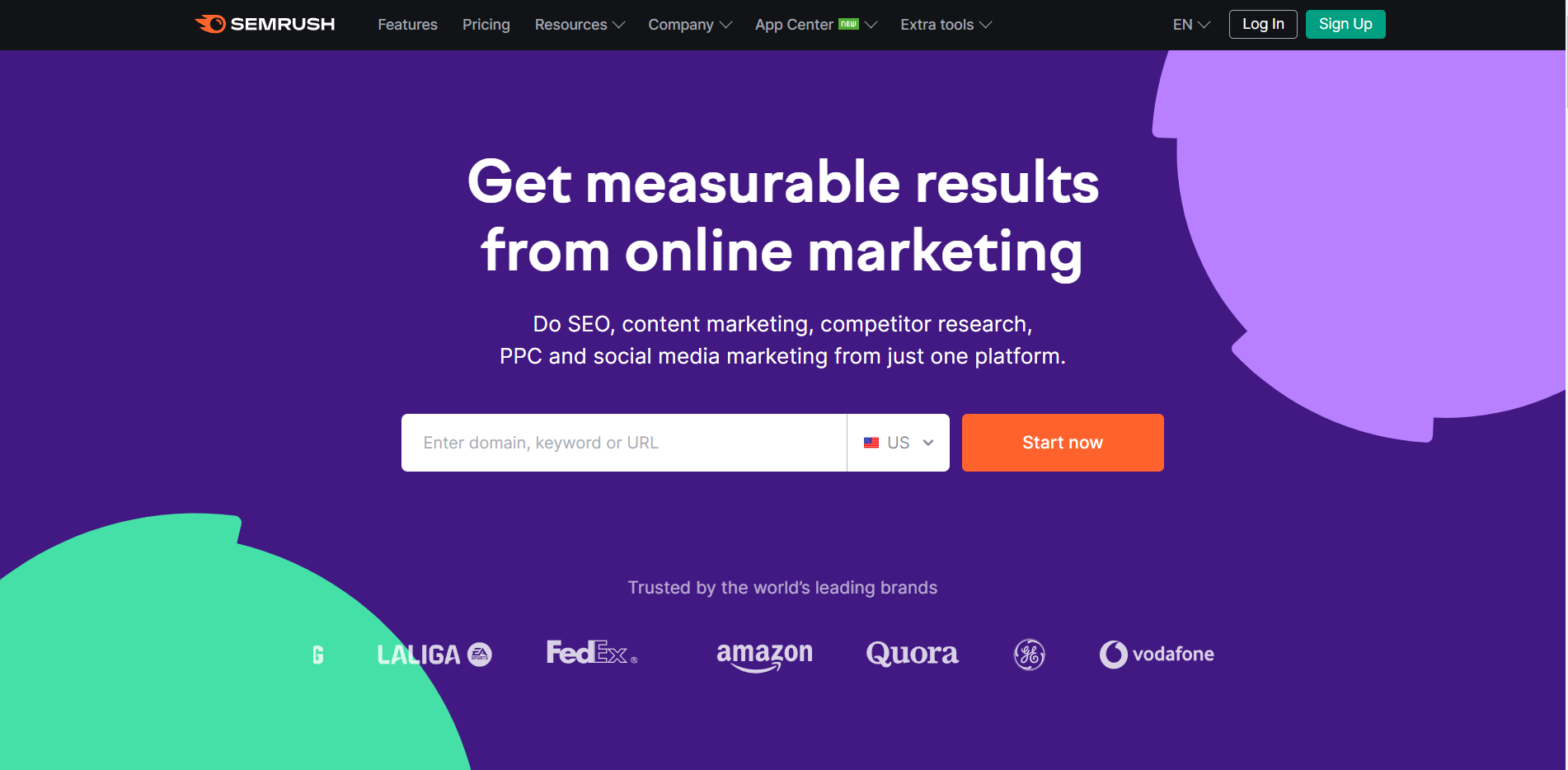 What Is Semrush?
Just like Ahrefs, Semrush is more than just an SEO tool; it's a comprehensive digital marketing suite that covers a wide gamut of tasks. Whether you're looking forward to performing in-depth SEO, paid traffic, social media, content & PR, or market research, Semrush has got you covered.
One unique thing about Semrush is its competitive research feature - enabling marketers to compare and decode the strategies of their rival businesses successfully. While we explore deeper into the 'semrush vs. ahrefs' debate, we will find out that Semrush has a more substantial keyword database compared to Ahrefs, and it also provides remarkable PPC data.
The tool's interface is straightforward, making the user experience simple and intuitive. Semrush offers profound analytics capabilities - site audits, traffic analytics, position tracking, research tools, and much more.
In a nutshell, Semrush is not just an SEO tool; it's a reliable, extraordinary ace up your sleeve in the ever-progressing digital marketing battlefield. It packs a punch with its extensive suite of SEO tools that help gain profound online visibility and manage SEO, PPC, and social media marketing from one dashboard.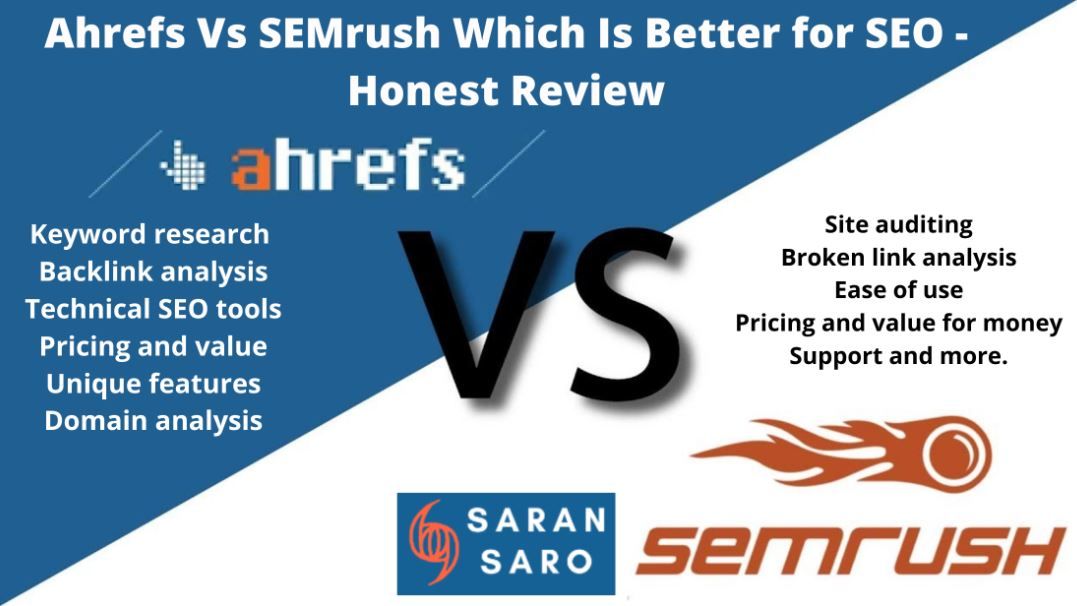 Ahrefs vs Semrush: Feature by Feature Comparison

In this section  faceoff, we'll guide you through a comprehensive analysis of essential features that constitute an SEO tool's backbone. Understanding these will equip you to choose the best-fit solution that caters to your intricate SEO requirements.
Keyword Research

One of the foundational pillars of SEO is keyword research. It's a crucial aspect of crafting a successful SEO strategy. Both Semrush and Ahrefs excel in this domain, but let's scrutinize how they stack up against each other in terms of keyword research functionalities.
Semrush offers an extensive suite of keyword tools, including `Keyword Magic Tool`, `Keyword Gap`, and `Keyword Overview`. The `Keyword Magic Tool` provides a deep dive into your keywords performance and offers numerous iterations and variations. Furthermore, you can find long-tail keywords, question keywords, and see search volume, keywords difficulty, and even SERP features.
On the other hand, Ahrefs provides a `Keywords Explorer` tool, delivering an abundance of keyword ideas from a database of over 10 billion keywords across 10 search engines, including Google, Bing, and YouTube. It presents data about search volume, keyword difficulty, clicks and cost-per-click (CPC).
💡
Although both tools offer robust keyword research functionalities, the sheer volume and diversity of keywords presented by Semrush make it slightly superior in this regard.
Backlink Analysis

Backlinks are pivotal in increasing site authority and driving more organic traffic. Let's delve into how Ahrefs and Semrush fare in backlink analysis.
Ahrefs  is often hailed as the best backlink analyzer in the market, providing a detailed overview of your backlink profile. You can track new, lost, and broken backlinks, view the UR (URL Rating) and DR (Domain Rating) for each backlink, and analyze anchor text distribution.
Semrush's `Backlink Analytics` tool also performs at par, offering an insight into your and your competitors' backlink profiles. You can analyze the authority of referring domains, check anchors, and find detailed statistics about every backlink.
💡
While both tools provide comprehensive backlink analysis, Ahrefs edges out Semrush due to its extensive and constantly updated database and more in-depth data points about each backlink.
Competitor Analysis

Analyzing your competition is key to understanding where you stand and how to improve your strategy. Let's examine how Ahrefs and SEMrush compete in the competitor analysis arena.
Semrush  shines in competitor analysis. Its `Traffic Analytics` tool gives you insight into the strategies driving traffic to your competitors' sites. The `Market Explorer` feature provides a broad view of your industry and identifies emerging competitors.
Ahrefs  also offers a reliable suite of competitor analysis tools. Through the `Competing Domains` report, you can find who outperforms you in organic search. Additionally, the `Content Gap` tool helps in identifying keywords that your competitors rank for, but you don't.
Though both tools offer robust competitor analysis features, SEMrush gains a slight edge with its advanced and detailed analytics.
Rank Tracking

Rank tracking enables monitoring of your SERP standings over time. Here's how both tools perform when it comes to rank tracking.
Semrush's `Position Tracking` tool allows tracking of your site's daily rankings for custom sets of target keywords across different geographies. It also offers the side-by-side comparison feature to track your competitors.
With Ahrefs , you can track your rankings over time, visualize them on a graph, and get regular updates through its `Rank Tracker` tool. It offers position tracking for your and your competitors' sites in SERPs.

Although both Semrush and Ahrefs perform effectively in rank tracking, Semrush's added flexibility for tracking custom sets of target keywords gives it a slight advantage.
Technical SEO and Site Audit

Technical SEO is all about making your site more appealing to search engines. Now, let's explore how Semrush and Ahrefs handle this domain.
Semrush's `Site Audit` tool is a sophisticated crawler that diagnoses your site's health by checking it against 130+ checks under categories like crawlability, performance, HTTPS, and internal linking.
On the contrary, Ahrefs' `Site Audit` tool also performs an in-depth analysis of your website's health and provides recommendations to improve. It checks against more than 100 pre-configured SEO issues.
In terms of technical SEO and site audits, both Ahrefs and Semrush bring a lot to the table, making it almost impossible to choose a clear winner.
💡
As we inch a step further in our 'comparison ahrefs and semrush' analysis, it's clear that both tools offer compelling features. Breaking it down, Semrush takes the cake in keyword research, competitor analysis, and rank tracking. Although Ahrefs triumphs in backlink analysis, the battle on technical SEO and site audits gets too close to call.
The ultimate choice between 'Ahrefs vs Semrush' will always boil down to your specific needs, preferences, and budget. Remember, the best SEO tool is the one that caters to your requirements and helps you achieve your SEO goals. Stay tuned to dive deep into unique features and customer support comparison, followed by pros, cons and pricing in our upcoming sections.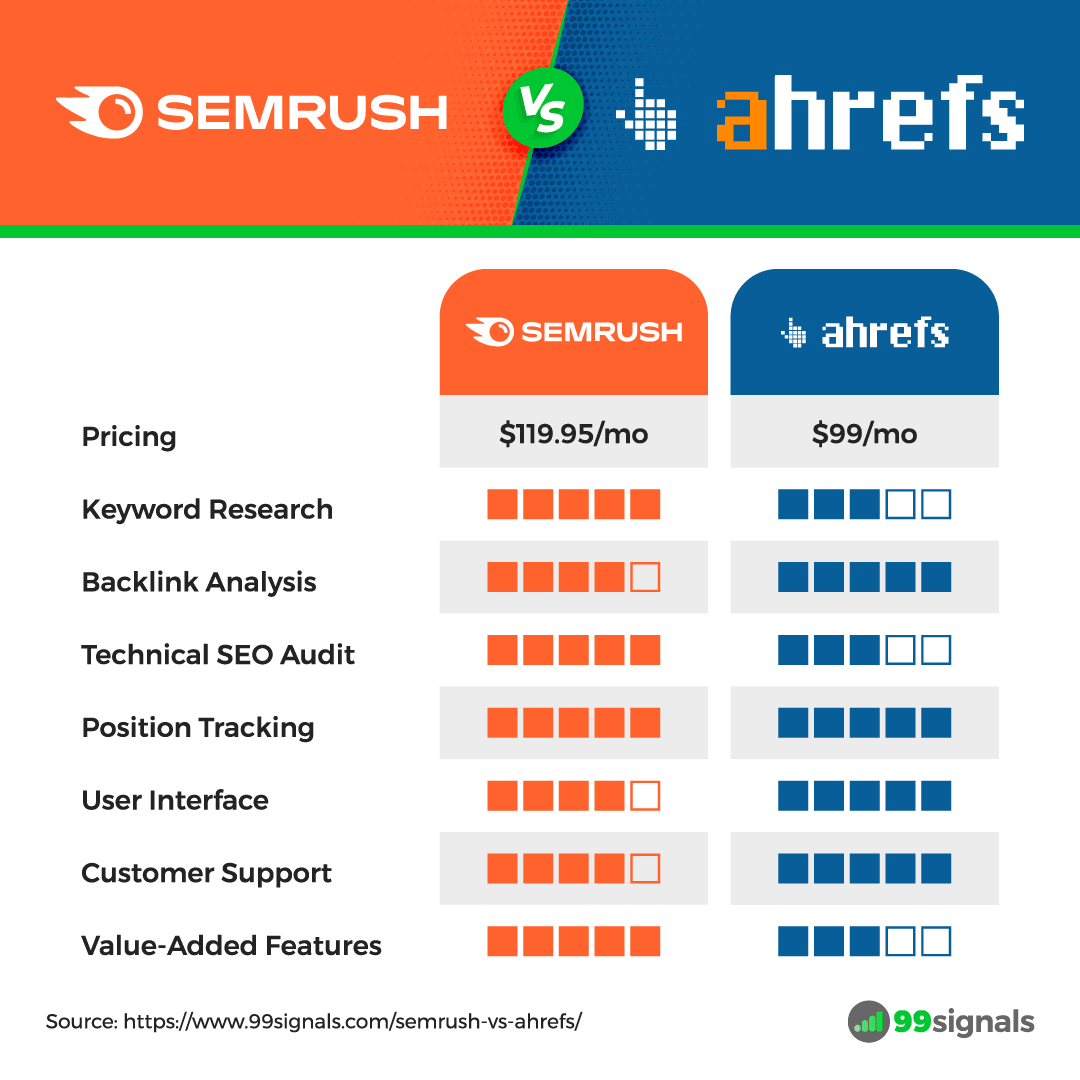 Unique Features and Support
As we continue with our 'semrush vs ahrefs' dissection, it's important to talk about the distinctive features unique to each tool, and the kind of support they offer. The impact of these attributes on customer experience and success shouldn't be underestimated: they often make or break the deal. Let's delve into each:
Which Tool Has Unique Features?

In an attempt to provide the most comprehensive suite of SEO tools, Semrush and Ahrefs have crafted several attributes that are unique to them.
Ahrefs' Unique Features
- Content Explorer:This is a unique feature of Ahrefs that you won't find in SEMrush. It is a tool that allows you to discover the most popular content on any topic sorted by backlinks, organic traffic, and social shares. It is a valuable resource for content marketers seeking viral content ideas.
- Internal Backlinks: Ahrefs also provides a comprehensive overview of your internal link structure. You can see all the internal links pointing to any webpage, understand the link value, and find orphan pages.
- JavaScript Rendering: This is another hallmark of the Ahrefs' Site Audit tool. A lot of modern websites use JavaScript to load important content or links, and Ahrefs can render such websites just like modern browsers do and give you a precise audit that includes all the essential elements.
Semrush's Unique Features
- Traffic Analytics Tool: As part of its competitive analysis features, SEMrush offers a unique Traffic Analytics tool. It provides insights about any website's traffic like visitor behavior, engagement, and acquisition channels, all based on clickstream data.
- Keyword Magic Tool: This is an exceptional keyword research tool by Semrush that provides you with millions of keyword ideas, long-tail keywords, question keywords, and various types of keyword variations. This amount of detailed keyword data is something you won't find in Ahrefs.
- PPC Data: Semrush also takes the lead when it comes to PPC data. You can get the CPC data for your keywords and even find your competitors' ads by using the Advertising Research feature.
While both platforms come jam-packed with unique features, the choice boils down to your specific SEO needs. And remember, these unique offerings are why the 'semrush versus ahrefs' debate remains heated!
Which Tool Has the Best Support?

The nature of SEO tools mandates an approachable, detail-oriented, and patient customer support team by your side. Let's look at how Ahrefs and Semrush fare on this front.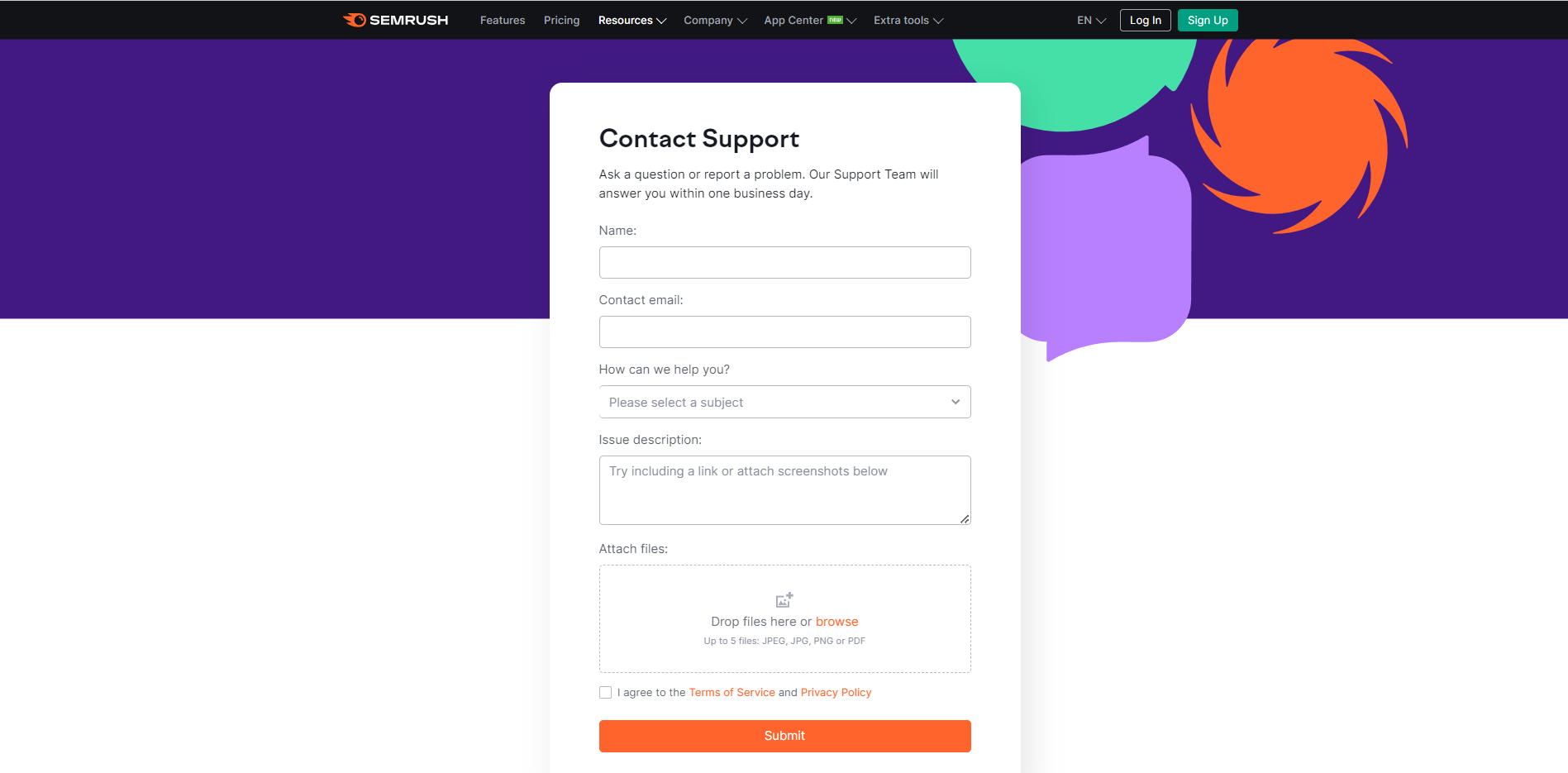 Semrush Customer Support:
The Semrush team ensures that you are never alone in your SEO journey. How?
- Knowledge Base and Learning Materials: Semrush offers a comprehensive help center, called Semrush Knowledge Base, a resource pool with FAQs and video tutorials. It also provides Semrush Academy - a platform with free courses for all SEMrush tools, certifications, and webinars.
- Customer Support Channels: Semrush provides an email ticket system, live chat support, and phone support for its users. The response time is typically quick, and the support team is praised for its helpful and friendly approach.
- User Community: Semrush also has a thriving community for users to discuss issues, provide feedback, and connect with other SEO professionals.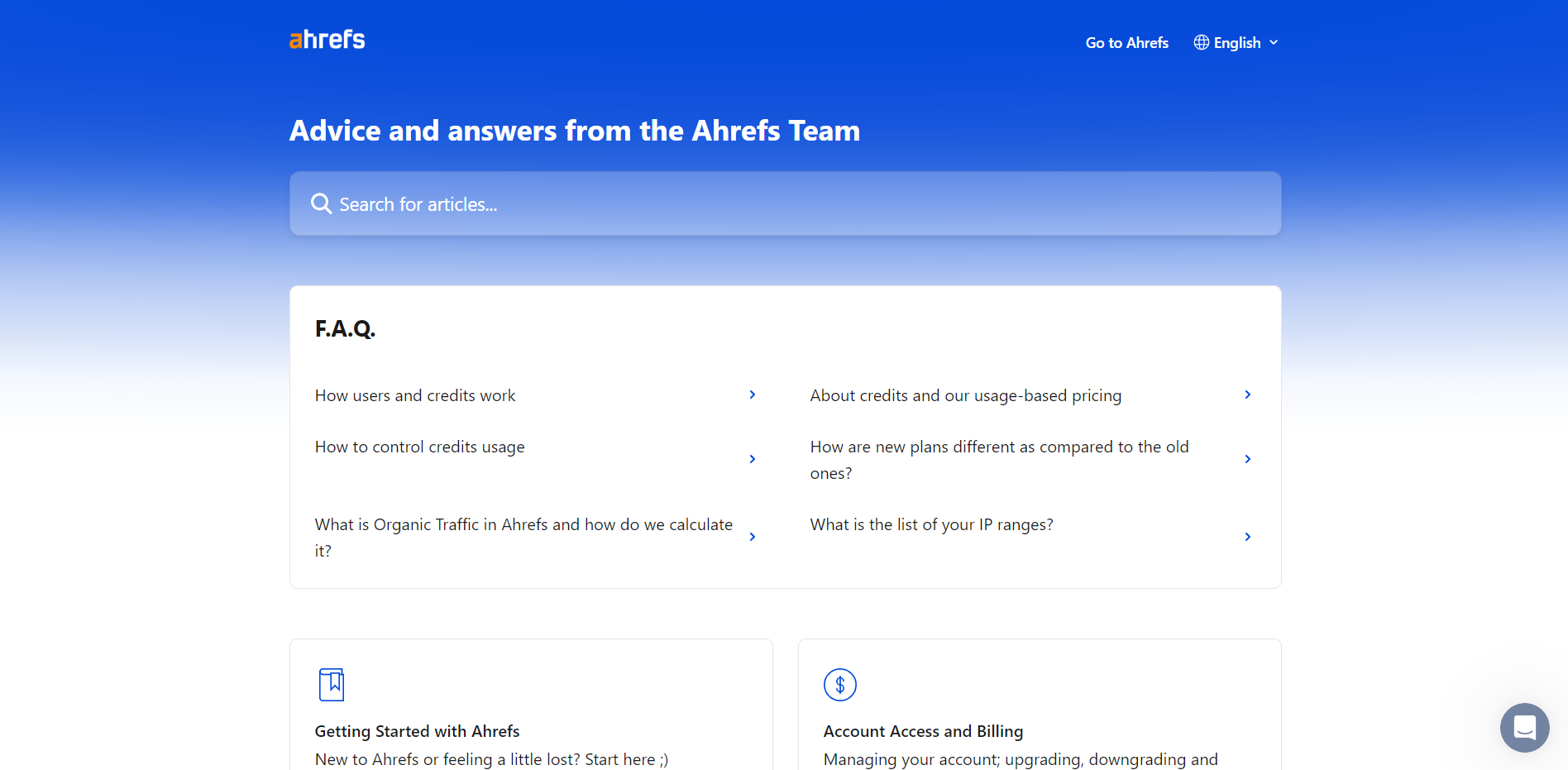 Ahrefs Customer Support:
Ahrefs has taken several measures to ensure a robust support system for its users:
- Help Center and Learning Materials: Ahrefs' Help Center and the 'Ahrefs Insider' Facebook group offer answers to popular queries. They also conduct regular webinars and share a comprehensive library of blogs and video tutorials.
- Customer Support Channels: Ahrefs provides support through a ticket system available on their site and social media platforms. Although they promise a quick response, the lack of live chat or phone support might be a slight downfall for some.
- User Community: Ahrefs' Facebook group, 'Ahrefs Insider,' is a supportive community where users can post queries, discuss strategies, share professional tips, and even get sneak peeks into upcoming features.
In the support showdown of 'semrush vs. ahrefs,' while Semrush provides more direct contact channels, Ahrefs counters with a proactive community and extensive learning resources. Your preference will hinge on your favored style of support.
Remember, quality support is like the sturdy anchors of a ship, keeping it stable in rough currents. By this point in our 'comparison ahrefs and semrush,' it's clear that both platforms offer an extensive set of features, backed up by credible support channels, aiming to make your SEO voyage smoother.
In our next section, we'll explore the pros and cons of both these platforms, which will allow you to weigh the strengths against the weaknesses, giving you better insights to make the most informed decision. Stay hooked! After all, the more knowledge you have, the better choices you can make!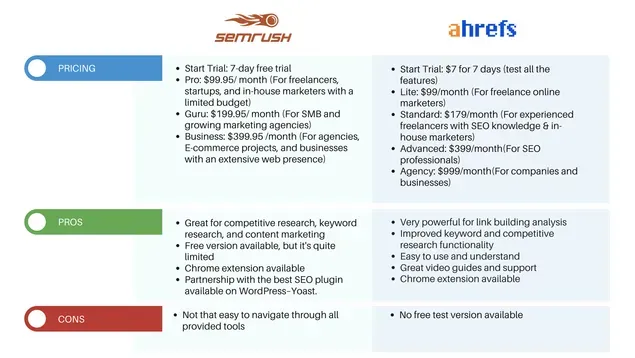 Pros and Cons

As we advance further into our 'semrush vs. ahrefs' analysis, it gets critical to weigh in on the benefits and drawbacks each tool presents. Knowing the perks and shortcomings equally is crucial in making a well-informed choice suitable to your SEO requirements.
Advantages and Disadvantages of Ahrefs

Most online marketers and SEO gurus swear by the capabilities of Ahrefs. However, like any other tool, it, too, has its pros and cons. Let's take a detailed look to further our 'semrush versus ahrefs' comparison.
Pros of Ahrefs
1. Superior Backlink Analysis: Ahrefs boasts one of the best backlink analysis features, which is commendable and considered superior by many users. Its extensive backlinks index and regular updates give it an edge over many other SEO tools, including Semrush.
2. Content Explorer: This tool allows you to find the most popular content within your niche across the web, giving you a strategic advantage over your competitors.
3. Intuitive User Interface: With its clean, straightforward, and graphic-rich interface, Ahrefs makes data interpretation and navigation extremely smooth.
4. Extensive Keyword Data: Ahrefs' Keywords Explorer provides a detailed keyword report, including SERP overview, keyword difficulty, CPC, and more.
5. Competitive Pricing: Compared to many of its counterparts, Ahrefs offers a more affordable and varied range of pricing plans that suit different customer requirements.
Cons of Ahrefs
1. Lack of PPC Data: If you require detailed PPC competitors data, Ahrefs might not fulfill your needs, translating into a disadvantage.
2. No Google Analytics Integration: Unlike Semrush, Ahrefs currently doesn't integrate with Google Analytics, which might create an extra step for some users.
3. Limited Export and Reporting Customization: Ahrefs' reporting and customization features could improve to compete with those of Semrush.
4. No Keyword List Management: This feature, provided by Semrush, is missed in the Ahrefs interface and is a shortcoming that users frequently point out.
5. No Disavow Tool: While Semrush offers a way to disavow bad backlinks directly from their platform, Ahrefs lack this feature.
In terms of 'ahrefs and semrush seo tools', it is evident that while Ahrefs shines in backlink analysis and offers a plethora of valuable features, it does have a few shortcomings which SEMrush addresses notably.
Advantages and Disadvantages of Semrush
Semrush has earned its place as one of the leading SEO tools in today's market. It's packed with versatile features that render it as an all-in-one suite for your SEO needs. However, it's not without its cons. In our 'semrush versus ahrefs' comparison, let's check out the advantages and disadvantages of Semrush.
Pros of Semrush
1. Comprehensive Keyword Research: Semrush's Keyword Magic Tool provides incredibly comprehensive keyword data, making it a superior choice for extensive keyword research.
2. Robust PPC Data: Semrush stands out with its detailed PPC data, offering competitive insights that can significantly benefit digital marketers running paid campaigns.
3. Competitor Analysis: Semrush provides detailed competitor analysis, allowing users to keep track of competitors' SEO strategies and adjust their own accordingly.
4. Wide Range of Tools: With Semrush, you get more than just an SEO tool. It's a complete digital marketing suite to help you manage your SEO, PPC, SMM, content, PR and more.
5. Google Analytics Integration: Semrush integrates with Google Analytics, making it easier to view organic/search analytics data.
Cons of Semrush
1. Backlink Data Updates: While SEMrush performs well in backlink analysis, the frequency of its backlink database updates is less compared to Ahrefs.
2. User Interface: Though full of features, SEMrush's interface can be overwhelming for beginners. It might take time to get the hang of all its features.
3. Technical Support: Some users have reported delayed response times from SEMrush's technical support, which could be an issue in time-sensitive scenarios.
4. Pricing: For startups or small businesses with limited budgets, Semrush might seem a bit costly. It's important to measure the ROI before investing.
5. No Free Plan: Unlike Ahrefs and other similar tools, Semrush does not have a free plan, which might be a roadblock for freelancers or startups.
💡
In this side of our 'comparison ahrefs and semrush,' it's clear Semrush emerges as a comprehensive SEO suite packed with a wide range of tools. However, its slow backlink analysis updates, high pricing, and other few cons are worth considering.
By now, in our extensive 'semrush vs. ahrefs' showdown, you should have a comprehensive understanding of each tool's standing in crucial aspects. But the journey isn't over yet! Let's hop onto our next section where we'll uncover the pricing tactics of both these tools. Keep reading, because this ride only gets more exciting! And remember, the more you know, the better you grow!
Pricing

A pivotal part of this 'semrush vs ahrefs' comparison revolves around a parameter we can't overlook - pricing. After all, your choice heavily depends on your return on investment, which is directly related to the price you're willing to pay.
Do remember throughout our 'comparison ahrefs and semrush', while pricing plays a significant role in your decision-making process, the value derived from the tool is equally crucial. It's important to assess whether the tool justifies its price by meeting your SEO needs effectively. Let's dive deep to know more!
Ahrefs and Semrush Pricing

In a highly competitive market, both Ahrefs and Semrush have adopted aggressive pricing strategies to cater to a wide array of user needs. Starting from a freelancer, a small startup to an established corporation, both tools offer a multitude of plans to match the diverse range of their potential customers.
Ahrefs Pricing
Ahrefs offers four pricing plans:
1. Lite: The Lite plan is priced at $99/month and is an excellent choice for freelancers or startups with a limited budget. This plan supports one user, up-to five projects, and includes basic options for the site explorer, keywords explorer, and rank tracker. Despite its limitations, this plan offers a solid bang for your buck.
2. Standard: The Standard plan is the most popular and is priced at $199/month. It extends support to one user, allows ten projects, and has slightly more generous limits for all the tool's functionalities.
3. Advanced: The Advanced plan costs $399/month and increases the user support to three with up to 50 projects. This plan offers higher data limits, more keyword reports, updated content, and more.
4. Enterprise: The Enterprise plan targets large agencies and is priced at a whopping $999/month. It supports five users, allows up to 100 projects, and provides the most ample data limits and maximum access to all tools and features.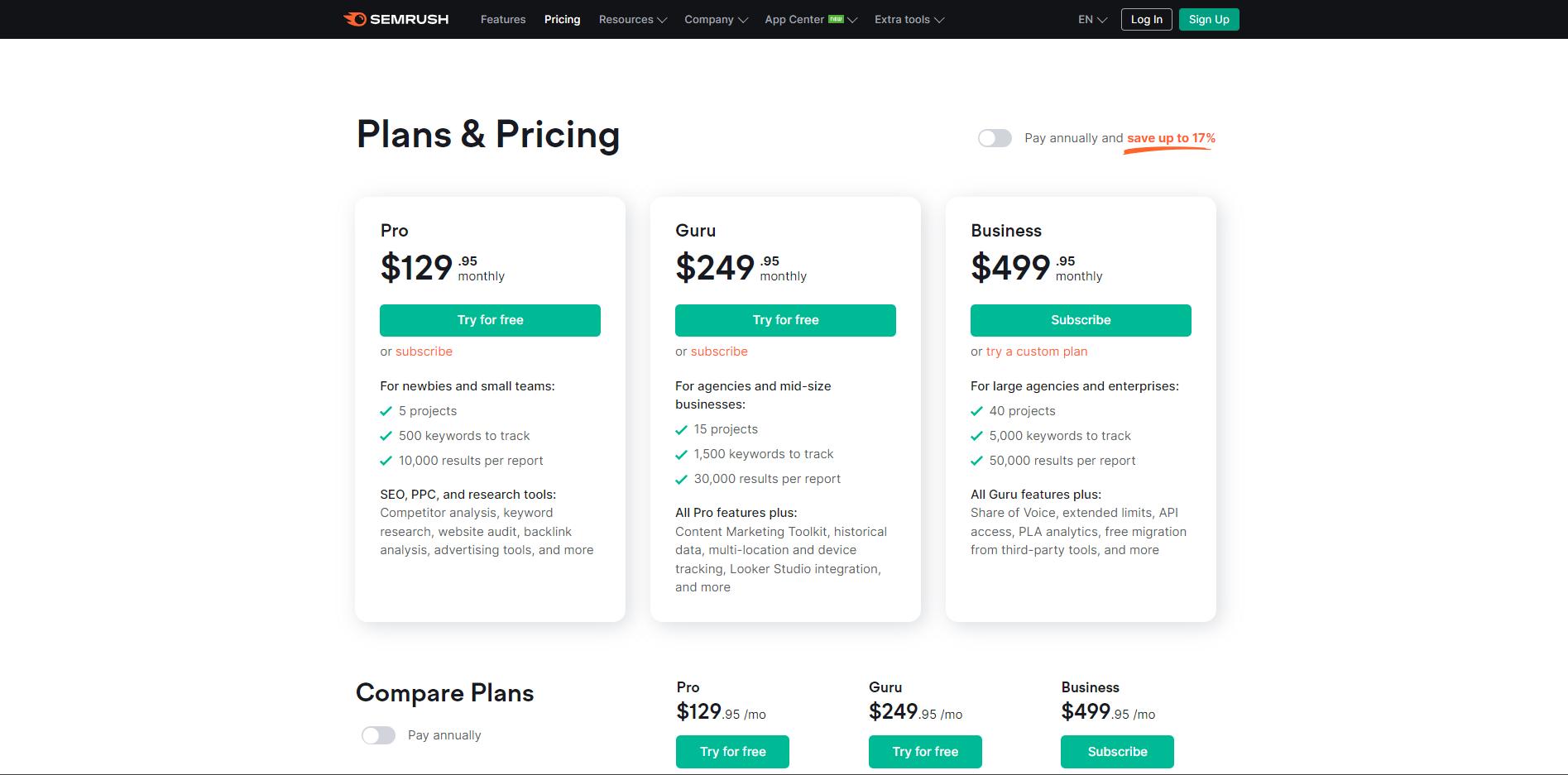 Semrush Pricing
Semrush offers three pricing tiers:
1. Pro: The Pro plan starts at $129.95/month and is a great choice for freelancers, startups, and in-house marketers with a limited budget. It offers basic tools, supports one user, and allows up to five projects. Despite its limitations, it offers a detailed analysis that can help create effective SEO strategies.
2. Guru: Aimed at SMB and growing marketing agencies, the Guru plan is priced at $249.95/month. It support one user, allows up-to 15 projects, and includes all the Pro features along with a few additions like Branded reports, Historical Data, and Extended limits.
3. Business: This plan targets agencies, e-commerce projects and businesses with extensive web presence. It costs $499.95/month and supports multiple users, includes all the Guru features plus white label reports, API access, extended limits and sharing options, and Google Data Studio Integration.
Semrush also offers the 'Enterprise' plan with custom pricing for larger organizations with extensive marketing needs. Unlike Ahrefs, Semrush offers a free 7-day trial on selected plans without any charges.
Concluding the pricing aspect of 'Semrush vs. Ahrefs'

Choosing the perfect SEO tool isn't just about the functionalities or pricing it offers; it's also about the specific needs and objectives you aim to achieve in your SEO journey. Whether you're an independent marketer, an SME owner, or part of a multinational company, it's crucial to remember that there is no 'one-size-fits-all' SEO tool.
In the end, both Ahrefs and Semrush offer powerful tools that provide valuable insights essential to any successful SEO strategy. Through this 'comparison ahrefs and semrush', we've tried to shed light on the available choices, and we hope that this guide helps steer you towards an informed decision.
Remember that the best SEO tool is the one that fits seamlessly into your workflow, complements your marketing strategy, and lets you extract the maximum value for an effective SEO campaign.
Whichever tool you settle for, be assured that both Semrush and Ahrefs rank at the top for a reason. Backed by excellent features, constant updates, and solid reputations- both are poised to empower you in making your mark in the digital realm.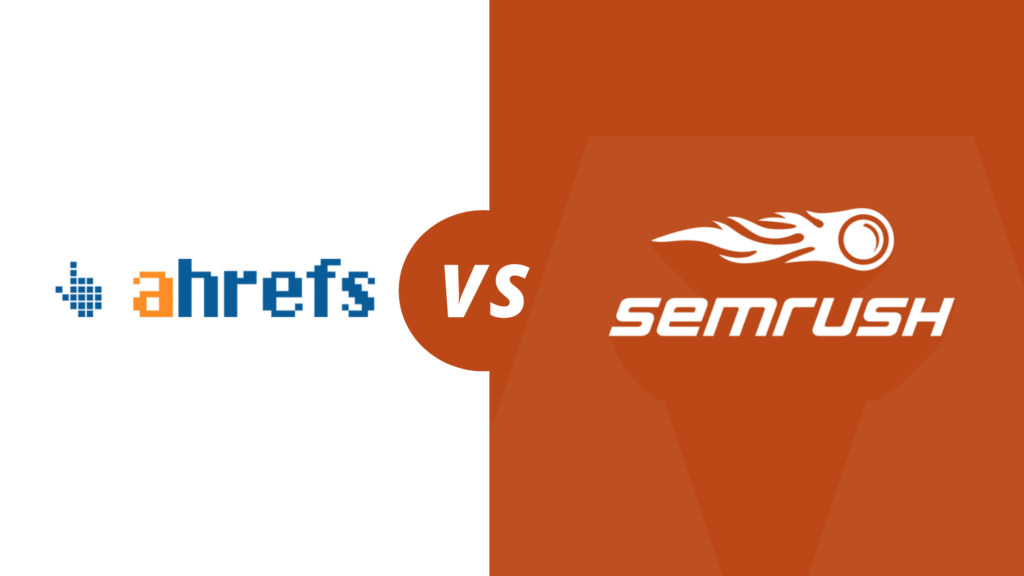 Final Thoughts: Semrush vs. Ahrefs, Which One to Choose?
After meticulously dissecting 'semrush vs ahrefs', evaluating their features, pricing, pros, cons, and support, we've embarked on a comprehensive journey. We've addressed why each tool is unique in its way, how they differ, their strengths, and how they might be improved.
So, the million-dollar question: Semrush or Ahrefs - which one is the best?Well, there's no easy answer to this. You might feel like you're at a crossroads, and that's completely fine. Both Semrush and Ahrefs are stalwarts in their field; their respective loyalists vouch for them, and with good reason.
In our world today dominated by digital marketing - a universe that expands and evolves every minute, it's no surprise that tools as powerful as SEMrush and Ahrefs exist. Both offer a smorgasbord of features to cater to a vast range of users - from the digital marketing novice to the weathered professional.
Let's cut to the chase and dwell into the core - your business model, your aims, and your budget will determine your choice in the 'semrush vs. ahrefs' contest. Both these tools have their distinctive strengths that cater to specific user needs.
While Semrush offers a comprehensive, all-in-one marketing package, Ahrefs goes unbeatable in backlink analyses and competitive pricing. The scales can tip based on these factors revolving around individual needs and financial feasibility.
Time to rip off the band-aid - if you've got the budget and dream of a marketing tool that not just does SEO but much more, SEMrush should be your knight in shining armor. In terms of the 'comparison ahrefs and semrush', SEMrush seems to outrun with its sheer volume of functionalities and diversity.
On the flip side, if you're racing on a tight budget but yearn for something robust and especially if backlinking is your main course - Ahrefs could be the superhero in disguise. Despite its slight shortcomings as compared to SEMrush's full-fledged SEO galore, Ahrefs gets a clear shot in the 'ahrefs and semrush seo tools' battle with its superior backlink analytics for sure.
At the end of the day, it's not about which SEO tool is the ultimate champion; it's about choosing the right partner in your SEO journey, someone who's there for the long haul. The goal here isn't to pick the best tool - because "best" can be subjective. However, it's to understand which tool fits your needs like a glove, making you feel snug and satisfied.
In the world of SEO, there's space for everyone to grow, and the same is true for Semrush and Ahrefs. These tools are your vessels sailing through the digital sea, helping you navigate your way to SEO success. They represent an investment of sorts, and like every good investment, they hold great value.
So, where do we stand in the 'Semrush or Ahrefs?' debate? The answer is - right in the middle. Because there is no definitive winner, only different requirements, you've got the wheel of your SEO ship.
This 'Semrush vs Ahrefs' showdown should ideally end with a toast to both these fantastic tools, both created to empower you, to give you a leading edge, and to help you carve your niche in the digital world. So here's to making informed choices, to growth, learning, and success!
We hope this comparison serves you well. However, remember, no one knows your business better than you. You're the torchbearer of your SEO journey. Walk ahead with confidence because your SEO success story is just around the corner. Best of luck!
Conclusion
💡
Our in-depth comparison of 'Semrush vs Ahrefs' ends here, but your SEO journey has only just begun. There's a whole expanse of possibilities that awaits you in the digital universe.
Now that you've got the highlights, the tips, and the tricks, it's time for you to decide which SEO tool can amplify your online presence while aligning with your budget constraints. Draw insights from this guide, evaluate your needs and potentials, and let it guide you to the SEO tool that feels like home.
Recapping the 'ahrefs and semrush seo tools' comparison journey, both the tools put up a strong show of power-packed SEO capabilities. The race was neck-to-neck, pros and cons on either side, fierce competition. However, the final choice boils down to your specific requirements from an SEO tool, individuals goals, and budget.
Finally, remember, SEO isn't just a tool or strategy; it's a journey. A journey that begins with understanding the core of your web entity, recognizing its strengths, and harnessing the potential to let it speak volumes for itself.
So, go ahead, make a choice - Semrush or Ahrefs, and get started with your SEO journey. The digital world is brimming with opportunities, and it's time for you to seize them.
No matter which tool you choose in the end, remember, it's all about how you use it to fuel your growth. Because at the end of the day, Ahrefs or Semrush, you're the real winner in your SEO journey!
Your success is waiting for you, hidden just around the corner. Here's to you, your choices, and the extraordinary journey of success that lies ahead. Stay curious, stay informed, stay successful!