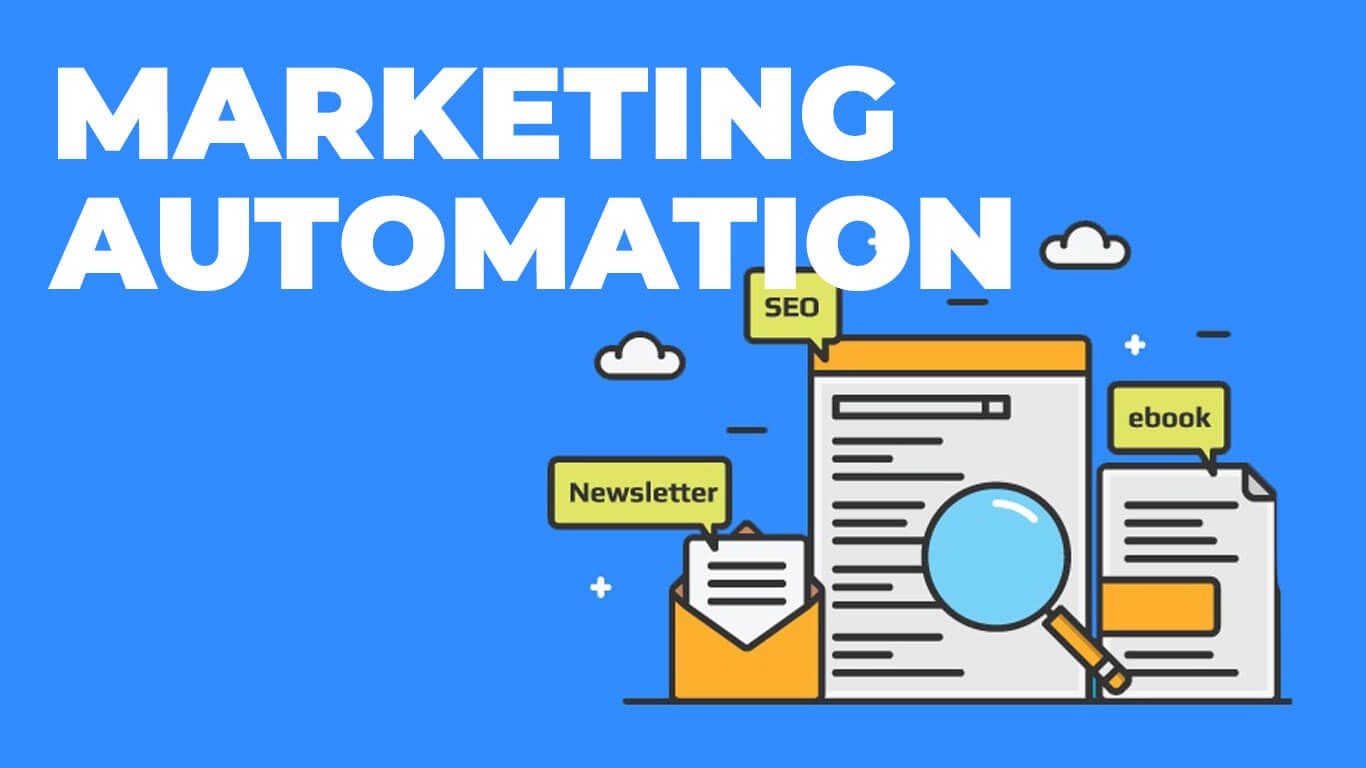 Marketing automation or marketing automation is the use of software to carry out marketing actions in an automated way. Thanks to this, a company can carry out processes that would naturally be difficult and achieve more efficiency and results and greater control and monitoring over them.
Learn more about what it consists of and all its advantages in this post or in the following video:
Marketing Automation Benefits

Thanks to the implementation of marketing automation, a series of advantages are obtained, among which are:
It allows you to develop complex marketing processes that, naturally, would be difficult or could not be done.
Provides more efficiency and reduces costs and staff time.
The company gains greater control of marketing actions and can also monitor their impact in detail.
It allows the design of automatic education and maturation processes from a database (lead nurturing). Thanks to marketing automation, the right email and content is delivered to the right user and at the right time.
It also makes it possible to automatically detect the records that are most prepared to receive a commercial offer, taking into account their profile and their behavior with the company (lead scoring).
It makes it possible to track conversions and interactions, both on the company's website and through its social networks and other channels.
Detect commercial opportunities in real time: your automation system allows you to send alerts every time a user requests to download certain material or, for example, requests certain information to register for a course, workshop, webinar, etc.

Lead Nurturing and Lead Scoring
The most relevant examples of automation are lead nutrition or lead nurturing (chains of emails that are sent automatically after site visitors carry out a specific action) and lead scoring or lead qualification, a procedure by the one that evaluates in which phase of the purchase process each lead that appears in the company's database.
These two procedures are essential to convey to users the benefits that the product or service offered by the company can provide and bring them closer to the purchase.
Lead nurturing and lead scoring, in reality, are not opposing concepts, but rather complementary ones. Both are included within what is marketing automation or marketing automation where, although there are more concepts, they are the two fundamental ones.
Lead Scoring
Lead scoring has a lot to do with how to get the records in a database to be ordered automatically, and practically in real-time, based on their qualification.
To achieve this, it is necessary to build scoring models. There are many companies in the market whose software value proposition consists of analyzing the database and the behavior of customers to, from there, determine their qualifications.
However, you can also build scoring systems that are not so smart, but that works really well, especially in terms of acquisition. In fact, we can do two types of scoring within marketing:
Acquisition scoring: These types of models are related to the processes of attracting new clients for a database. Thanks to them, it is possible to discover if the users are qualified to initiate the commercial approach or not. In the event that their maturity is confirmed, it is possible to resort to a certain model that will allow them to launch promotions that encourage them to continue advancing in their purchase process.
Loyalty scoring: These types of models have a lot to do with upselling and cross-selling processes. There is a wide variety of scoring models for loyalty, which will change, depending on the market we are in and the type of customers a company has. Depending on the objective, it will act in one way or another, and, for example, if the customers are seasonal, their score will increase as the moment of their seasonality reaches the point where the purchase will be generated again.
Lead Nurturing
Lead nurturing is the other fundamental concept related to marketing automation. It is typically defined as automated email chains that aim to educate or mature leads from a database.
The interesting thing is when this is integrated into an automation tool because then it is tied to the scoring process, so the automatic email sends vary according to the lead score.
Lead nurturing, although it is mainly done by sending automated and personalized emails, can also be developed with other digital marketing actions that move users through the stages of their purchase process, for example, retargeting ads, chats integrated into the website, personalized social media ads, etc.
Finally, it should be noted that nurturing can be carried out at two different times:
Recruitment nurturing: refers to the nurturing actions that are implemented to get people who are not yet ready to buy to do so. The objective here is the education for the purchase.
Loyalty Nurturing: This is a totally different approach. It allows knowing the type of content or offers that are most interesting to send at any given time to each customer in a database, based on their characteristics or behavior.
However, marketing automation does not end here: it also has applications in other areas of marketing and loyalty. We see it applied in the onboarding processes of software applications, in order for the user to finish understanding how the application works, or rather, to continue using it. We will see it later.
Historical Evolution and Current Context
Marketing departments have undergone a process of modernization in the last 25 years, especially since the appearance of the first search engines on the Internet, in the mid-1990s.
A scenario in which analog is giving way and in which each More and more technological marketing resources and supports appear, such as Google Adwords, Facebook Ads, YouTube, etc.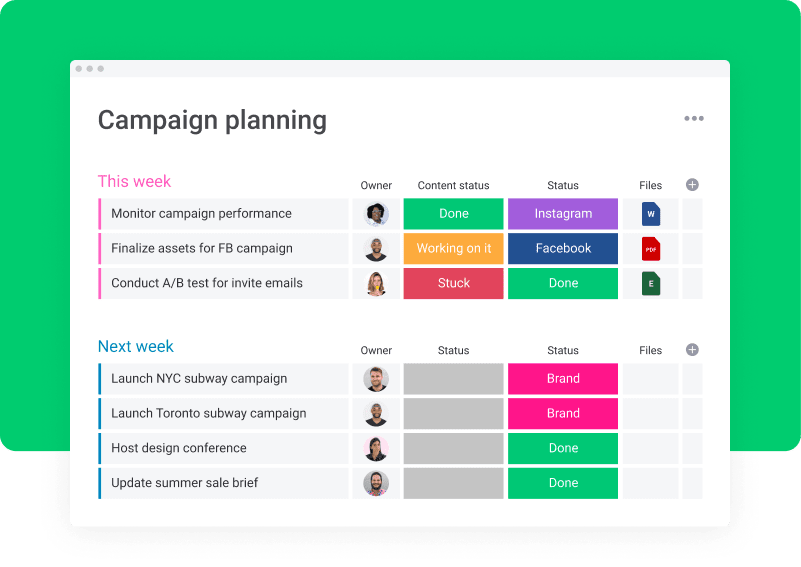 In this context, the need arises to have marketing campaign planning tools, as well as the optimal technology to be able to manage them correctly.
This includes tools of the most diverse, and that allow to carry out all the actions of a digital marketing campaign, for example: sending emails, administration of web pages and blogs, creation of segmented lists or tools that allow unifying the management of all social profiles.
On the other hand, we must not lose sight of the fact that, in recent years, there has been a great compaction in the market, in which more and more companies are launching to market their own software products.
Since 2011, the number of software and companies dedicated to digital marketing has doubled year after year. From the 150 existing companies in 2011, it has grown to close to 5,000 in 2017, as can be seen in that Chiefmartec image :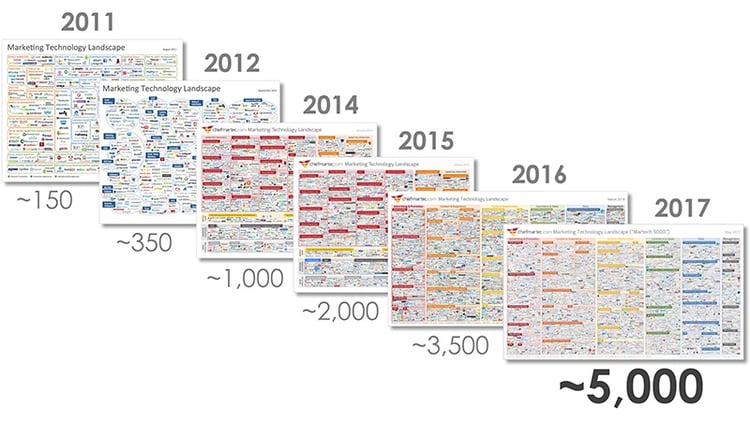 As an illustrative case, it is enough to remember that inbound marketing was born in 2005 by the company HubSpot. Therefore, this discipline presents in its DNA an undeniable technological base, called to streamline the day-to-day of various online marketing operations.
Likewise, in inbound marketing, a conglomerate of very varied marketing techniques and methods come together: managing a website, creating online content, SEO, sending emails, managing social networks, web analytics, and driving traffic through techniques pay per click (PPC) and social ads.
This is precisely one of the great goals that inspired the appearance of inbound marketing: to integrate all these techniques into a single technology since it is very difficult to use a specific tool for each task.
Therefore, you cannot understand inbound marketing without taking marketing automation into consideration.
In any case, it should be emphasized that these two concepts are not exactly the same. Automation is only one part of inbound marketing. Inbound marketing also encompasses a series of techniques aimed at attracting potential customers to a company's website (through different digital marketing actions) and getting them to leave their data and become a leader in the organization's database.